Content Management System Websites
Take Control of your website
Our simple to use yet advanced Content Management System gives you the power to add & edit all the content of your own website 24 / 7 / 365, with no ongoing costs other than the initial set up.
No technical training required !
A 'Content Management System' or CMS website allows you to manage all the content within your website, without technical training. Many CMS websites on the market are too complex to use meaning you may still need an IT person to use it! Our advanced CMS not only has all the features and functionality you will need, but is a system that is very easy and intuitive to use! With our uncomplicated system you can very easily add or remove pages (no limit), add or delete images (you can also resize and/or crop images), plus edit all text throughout your website, plus so much more!
You can have an unlimited number of pages and a full site-search engine. What's more, you can have a highly professional CMS website at a very reasonable price! We can dramatically improve the flexibility of your website and your ability to change and update content quickly. This means your website will be kept fresh and current which will please visitors to your site but also the search engines!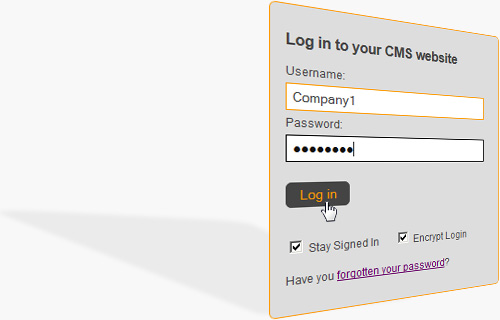 Content Management System overview:
Bespoke web design and development (no use of templates - all work is created from a blank canvas)
One-off cost - no ongoing website payments
Update all content: images, pictures, text and other information with ease.
No software required as its all done through your web browser
Unlimited webpages
Upload images / pictures, plus crop or resize
Add external / internal hyperlinks
Add Tables
Complete text control - bold, italics, colour, size, etc
Format text: left, right and centre
Dynamic navigation creation - if you create a new web page, it is automatically added to navigation menu
Built in upload area - for images, files, etc
Little training required
Password protected and encrypted login
Editable from any computer anywhere (with internet connection)
Unlimited use 24 / 7 / 365
Search engine friendly URLs
Complete page control
Complete site control
Complete control of search engine parameters, e.g. unique page titles, descriptions, keywords, etc.
Content Management Systems allow a non-technical user to:
Be in complete control of a website's content
Administer a site from any computer connected to the Internet.
Manage a website without having to install additional software
Add / update images directly from PC to website
Manage the website without knowledge of FTP
Manage the website without any knowledge of HTML editing
Add / remove pages with automatic update of navigation menu(s)
Manage the site without the need for support calls
Keep the site fresh and up-to-date
Please contact us for more information at: sales@gravity.ie or telephone (01) 458 38 98